A balloon sinuplasty can help patients with chronic and recurrent acute rhinosinusitis that does not improve despite prolonged medical treatment. A balloon sinuplasty uses a small, inflatable balloon to open sinus passages, allowing them to drain. This FDA-approved technology has been available for inpatient use in the operating room since 2005, and has been performed in over 165,000 patients (over 300,000 sinuses) nationwide. At the Raleigh Capitol Sinus & Allergy Center, we perform balloon sinuplasty procedures both in-office using local anesthesia and in the operating room using general anesthesia.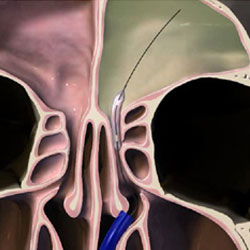 When performed in the operating room, the surgeon uses an endoscope and camera to visualize the sinuses and positions a lighted guide-wire into the sinus to be dilated. A small balloon catheter is then threaded over the wire and inflated for 5 to 10 seconds. The next sinus is then treated in the same fashion. If necessary, the sinus can simultaneously be irrigated with saline.
In addition, balloon sinuplasty:
Is a safe procedure with low risk of complications
Allows the patient to almost immediately return to regular activities
Involves minimal bleeding
Involves no tissue removal
Involves no nasal packing
Usually eliminates the need for postoperative sinus cleanings to remove damaged tissue
While there continues to be controversy regarding proper use and efficacy regarding balloon sinuplasty, the majority of studies indicate favorable results. The best studies show symptom improvement for 85% of patients at 2 years post-op with no serious adverse events. The American Rhinologic Society and the American Academy of Otolaryngology-Head and Neck Surgery both currently have favorable position statements concerning this procedure.
Please visit sinushealth.com for further information.
At Raleigh Capitol Sinus & Allergy Center, we offer comprehensive care for the nose and sinuses. If you are suffering from chronic or recurrent sinus problems and have not found adequate relief from medical therapy, you may be a candidate for balloon sinuplasty. For an appointment contact us.